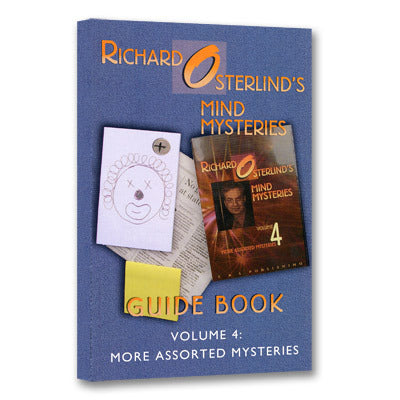 Mind Mysteries Guide Book Vol. 4: More Assorted Mysteries by Richard Osterlind
---
"You will learn more from these pages than from the countless tricks of the day you are probably buying."
- from the foreword by Greg Arce

In this fourth guide book, Richard dissects the powerful magic and mentalism items that brought the first installment of the Mind Mysteries series to such a smashing conclusion. In addition to his many insights into the material that was presented on Mind Mysteries Volume 4 - More Assorted Mysteries DVD, you'll also find:

An exposition of ways to make the effects in your own show much more powerful.
The real way to do pre-show work.
The necessary ingredients for strong magic.
The real history of many of Richard Osterlind's most powerful creations.
Mind Mysteries Volume 4 - More Assorted Mysteries presented some of the strongest material Richard Osterlind has ever created and in this fourth volume of the Mind Mysteries Guide Book series, you'll gain some valuable insights in how to inject this power into your own work.

Pages 88 - Softbound
---
Share this Product
---
More from this collection